Tonga's Volcanic Eruption and Tsunami
---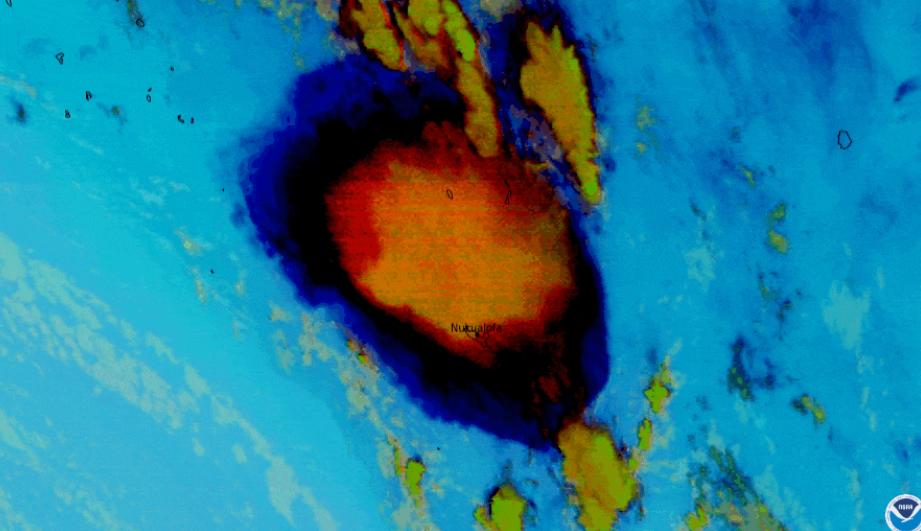 ShelterBox New Zealand continues to send our thoughts and aroha to the Tongan community, following an underwater volcanic eruption and subsequent tsunami in January 2022.
The eruption of Hunga Tonga-Hunga Ha'apai is one of the most violent ever captured on satellite, with a 3-mile wide plume of ash, steam and gas rising 12 miles into the air. It sent shockwaves and triggered tsunami waves across the South Pacific.
So far, up to 84, 000 people have been affected.
Access to clean drinking water remains the main priority in Tonga. The airport has now been cleared of ash, and contactless relief supplies have arrived from Australia and New Zealand, including water containers and communications equipment.
The ShelterBox Response
---
ShelterBox has been closely monitoring the situation in Tonga ever since news of the volcanic eruption and tsunami emerged.
After much investigation and consultation with local partners to better understand the situation and scale of unmet need, it has recently been announced that ShelterBox will not be responding in Tonga.
This is not a decision that has been taken lightly.
The need for shelter around the globe due to disaster and conflict displacement is huge. With such unprecedented need, we must continue to focus on responding where people will not receive shelter support from any other sources after disaster, and where there is a clear need for ShelterBox aid. 
Our reasoning is based on the findings below:
In Tonga, large-scale government responses are being provided by New Zealand, Australia and China, with further support from Japan and the UK.

People in Tonga are also receiving support from other organisations with local or regional presence, including the Red Cross, UNICEF and Rotary New Zealand's ERKs.

We have been working with these organisations, and others, to understand the likely extent of shelter aid needed, and we believe communities in Tonga are likely to receive support from those organisations.
The Red Cross has aid in Tonga, which it has started to distribute. UNICEF has supplies in Brisbane and Fiji, which are also being sent to Tonga. ERKs have aid prepositioned in Tonga, and in other locations in the region. As ShelterBox is not responding in this instance, and as our goal of emergency shelter to support families is a common one, if you wish to support the people of Tonga, we encourage you to direct your support to ERKs.
In the past, ShelterBox has responded close to home in Christchurch, Fiji, Samoa and Vanuatu, and stands ready to help the our Pacific Island brothers and sisters in the future, should our assistance be needed.  
At present, ShelterBox is helping people across the world who have had to leave their homes because of disaster or conflict. We are currently working in the Philippines, following the super typhoon that hit the country last month, as well as in Syria, Cameroon, Ethiopia, Nigeria, Yemen, Burkina Faso, Mozambique and Haiti.
Rotary is involved in many of these responses. ShelterBox is Rotary International's Project Partner in disaster relief, and we are proud of our deep global partnership with Rotarians.
As our work relies on ensuring we are prepared so that we can help wherever we are needed in the world, we welcome donations to ShelterBox New Zealand at any time during the year.
N.B. Updated January 24, 2022.