OUR VICE-REGAL PATRON
---
Her Excellency The Right Honourable Dame Patsy Reddy GNZM QSO DStJ Governor-General of New Zealand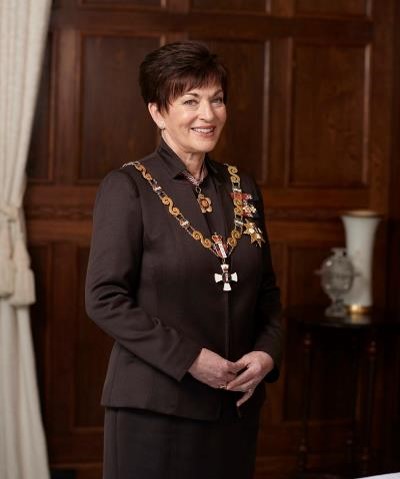 OUR EXECUTIVE TEAM
---
Guy Cassidy
CHAIR, TRUSTEE
Guy was appointed to the Board in March 2016, he became Vice-Chair in July 2016 and Chair in March 2019.
He is an Engineering Geologist. He has a strong interest in corporate and NFP Governance and is a keen member of the Institute of Directors. He is a trustee of his company's charitable trust (The ENGEO Dreamtrust http://www.engeo.co.nz/dream-trust/) which helps people across NZ. Guy served as an elected member of the New Zealand Geotechnical Society board from 2013 to 2017 for two terms and continues to have a keen interest in serving the engineering industry and raising the collective bar.
Claire Achmad
VICE-CHAIR, TRUSTEE, GOVERNMENT & PATRONS
Claire was appointed Vice-Chair in March 2019. She is a human rights lawyer focusing on human rights advocacy, international law and children's rights. She is completing her PhD (focusing on international commercial surrogacy and the rights of the child). Claire also teaches as a visiting lecturer at the University of Auckland Law School and is a member of an international experts group working on prioritising child rights in international surrogacy. She is also a trustee with P3 Foundation. Previously, she has been employed as the human rights solicitor for the Ministry of Social Development, as child rights and advocacy officer for UNICEF the Netherlands, and as senior adviser to the Chief Human Rights Commissioner and Executive Director of the NZ Human Rights Commission. She lived in the Netherlands 2010- 2012 with her husband where she took up a Rotary Global Grant Scholarship, studying for an Advanced Masters in Public International Law specialising in Peace, Justice and Development. It is through her involvement with Rotary that she first became aware of ShelterBox.
Nadine Koruna
SECRETARY,
In her usual role, Nadine is currently assisting hotels in a Health and Safety capacity, as well as helping them in their quest to become more sustainable by focusing on their environmental impact, and corporate social responsibilities.  With a passion for creating a more equitable and sustainable world, she happily joined ShelterBox NZ team to make a difference to communities in need.
Luke Gillespie
TREASURER & TRUSTEE
Luke is an Accountant at PwC in Christchurch where he is passionate about helping local organisations thrive and grow their impact. He is a current member of the Global Shapers South Island Hub and was previously the Vice President of the University of Canterbury Students association representing over 12,000 students while ensuring their varying needs were met. Luke is a keen outdoors-man and enjoys exploring what New Zealand has to offer. As a result of spending time in the elements and his experience post-Earthquake in Christchurch, he appreciates the importance of shelter and equipping families with the tools they need to survive and bounce back post disaster. He is excited to assist and help ShelterBox be the change in the lives of families around the world when they need it most.
Jackie St John
DIRECTOR & TRUSTEE
Jackie is a lawyer with a focus on environmental law. Jackie has a strong service ethic – she has been a member of the Dunedin Rotary Club since 2005. She is a Paul Harris Fellow and past President and Assistant Governor, trustee of 3 club charitable trusts, past Chair and current member of her District's Rotary Australia New Zealand Student Exchange committee, and past Director of RNZWCS Limited (Rotary NZ World Community Service, which distributes emergency response kits within the Pacific). ShelterBox New Zealand was founded in her Rotary District 9980. Jackie was appointed to the Board in March 2016, becoming Chair in July 2016, she currently serves on the Board as the Immediate Past Chair.
Brent Eddy
DIRECTOR CORPORATE PARTNERSHIPS & TRUSTEE
Brent joined the ShelterBox Board in February of 2019.
From being in the service of the King of Swaziland to interviewing Meatloaf, orchestrating business strategies, and commercial negotiation Brent has accumulated an eclectic melange of career experiences.
His corporate career spans enterprise software, ICT, consulting, services and broadcasting industries predominantly managing programs related to engagement, brand, business development, performance and strategy.  Currently balancing private investment, coaching and advisory work. Brent maintains active interests in international development and political-economy; regenerative economics and ethical finance are a particular focus.
Rebecca Aitchison
DIRECTOR ROTARY ENGAGEMENT
Rebecca is a Police Officer working in Child Protection as a child evidential interviewer. Rebecca worked on the front line for 13 years before taking up the specialist role and also assists with the local Scene of Crime Officer uplifting fingerprints when time allows.
Rebecca is a keen volunteer – she has been a volunteer fire-fighter for 9 years and joined Rotary in 2013 after being accepted as part of The Rotary Group Study Exchange to Ireland, where she was first introduced to ShelterBox.
Mike Cahill
MEDIA OFFICER
Mike joined the British Army in 1964 and served for 40 years in the areas of logistics and maritime, retiring in 2004. On arrival in New Zealand Mike joined the NZ Police as a specialist firearms officer.
Mike's involvement with ShelterBox began after meeting the ShelterBox Founder during a visit to New Zealand in 2009, shortly after Mike was asked to become the Rotary District 9930 ShelterBox Coordinator. In 2011, Mike joined the ShelterBox New Zealand Board, resigning in 2014. Since then he has been responsible for providing the social media support.
Mike is a Rotarian, a past President of Fairfield Rotary Club (2014-15) and past Assistant Governor (2015-18). He is a multiple Paul Harris Fellow, and a member of the Paul Harris Society. In 2019 he received the District 9930 'Rotarian of the Year' award for his work with ShelterBox.
President
---
HRH The Duchess of Cornwall
The Duchess and The Prince of Wales were first introduced to ShelterBox in 2006. While on an official visit to Pakistan, they learnt about our work supporting families who had lost their homes in the Kashmiri earthquake. Her Royal Highness has been a keen supporter of our work ever since.
LEGAL AND GOVERNANCE
---
ShelterBox New Zealand is a registered charity with Charity Services; charity registration number CC49035 and is an approved donee organisation for the purposes on the New Zealand Income Tax Act 2007.
ShelterBox's ultimate decision making authority is its board, which has full legal responsibility for running of the charity. The trustees act as the directors of the organisation. Trustees are appointed in light of their commitment to ShelterBox and their experience and skills which enable them to undertake the responsibilities of trusteeship of a large and complex charity.
The board meets at least four times a year and designated members of the executive team attend these meetings as non-voting observers to advise and inform the board.
ShelterBox recognises the responsibilities placed by law on a charity trustee and provides a full programme of induction training in all appropriate matters. This includes governance and compliance for all new trustees, as well as refresher training for existing trustees in order to keep them up-to-date with current legislation.
ShelterBox UK Trust Annual Report 2018
In 2018, we went further than ever to reach families who needed emergency shelter.  We supported 210,000 people who lost their homes to natural disaster or conflict. We can't replace what is lost, but emergency shelter can give families some sense of normality – it is a place to call home, the space to begin to recover.
download report (PDF, 2MB)