Rotary Clubs around the world find fun and innovative ways to support ShelterBox
---
Whether you're raising funds or just generating awareness, everything you do for ShelterBox counts. Your efforts will help provide shelter for people in their darkest days — people who have lost their homes due to a disaster or conflict.
Get inspired here, then let us know how we can help you create an activity or event to share the message that everyone deserves decent shelter.
Host a dinner or ...
---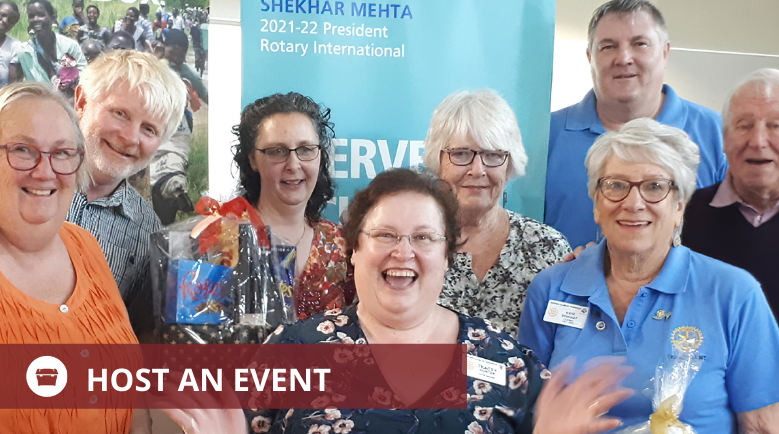 You can host a Shine for ShelterBox dinner like the Rotary Club of Taradale (pictured here) or the Rotary Club of Kerikeri and raise awareness and funds for ShelterBox.
Other clubs are hosting wine tastings, movie nights, game nights, scavenger hunts and comedy nights. Why not add a live or silent auction to your event? Or maybe even have a virtual auction where bidders "purchase" ShelterBox tents and equipment and leave with a thank you card suitable for their tax records.
Let us know what you're planning and we'll help however we can.
Camp Out
---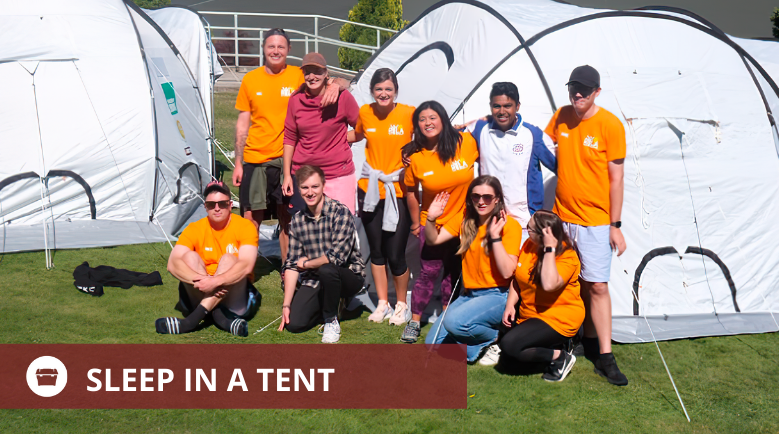 The kids at District 9980 RYLA (pictured here) know all about tents. You can let your friends and community know all about them too.
How about glamping? Set up a tent in a beautiful location, kit it out with elegance, provide great food and wine and charge for the weekend. It's unique, it's adventurous, and it deserves a big price tag.
Or, sleep in the tent yourself and ask supporters to pledge support by the hour, day, or night with a Givealittle campaign. If Nancy Dowd from the Rotary Club of Anchorage, Alaska can sleep in the tent for a few nights at the start of the Iditarod dogsled race in Alaska, with temperatures around freezing, what could you do here in New Zealand with our gorgeous weather? Be sure to have some brochures handy as you'll be getting plenty of attention from the public!
Hold a Quiz Night
---
What could be more fun than Rotarians from several local clubs getting together with friends and whānau for an evening of fellowship as teams compete in a quiz night?
Just ask the Ahuriri Rotary Club. They held a quiz night to educate attendees about the important work of ShelterBox and raise valuable funds to help people who had lost their homes as a result of a disaster. Everyone paid an entry fee, contestants bought raffle tickets, supported the bar, tested their knowledge and had a great deal of fun while raising over $4,000 for Rotary's partner in disaster relief.
Set up a display
---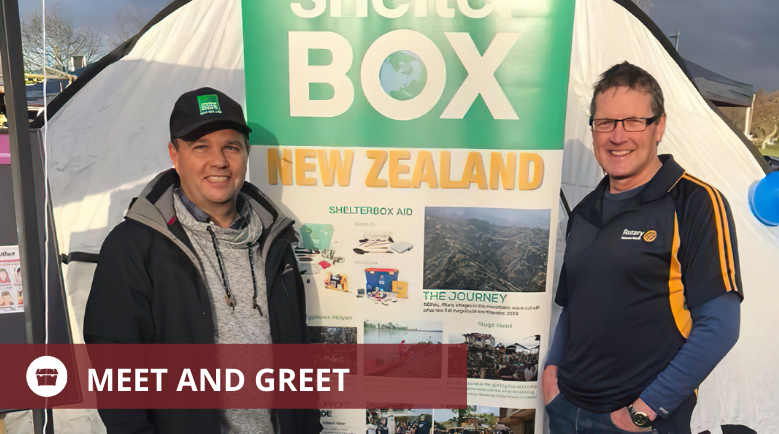 One way to gain attention from the public is to set up a display about ShelterBox — with or without the tent. You can set up at a market like the Rotarians from the Rotorua North Club (pictured here) or at a motorhome show like the Nelson Rotary Club does.
Sometimes asking for donations is okay; other times, just building awareness is sufficient. This is a great way to promote your club and attract new members who may be interested in international service.
Be sure to have lots of handouts so people can learn more once they get back home. Let us know if you need a list of talking points.
Join the Parade
---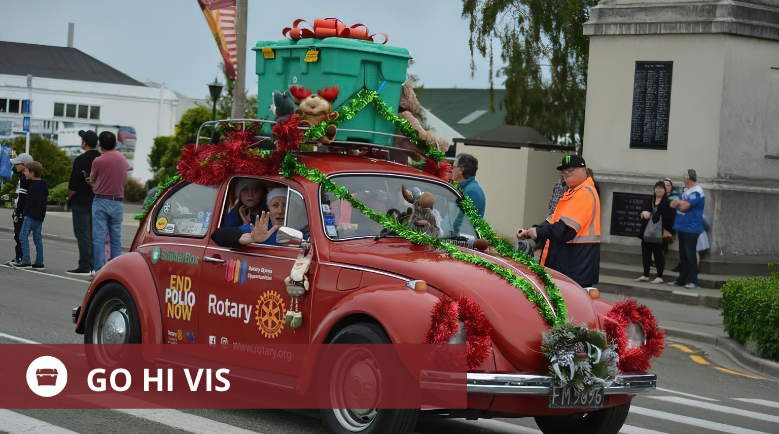 Do you think these Rotarians had a lot of fun decorating their car and riding in the Timaru Christmas parade? Of course they did — all while spreading the message of Rotary and ShelterBox.
Join your local parade in a car, on a float, or just walk as a group. Let us know what supplies you need to make a big splash. Your entry needs to be fun, bright, and eye-catching. And be sure to send a photo and story about Rotary and ShelterBox to your local paper. It's a great way to promote your club or district.
Become an Adventurer
---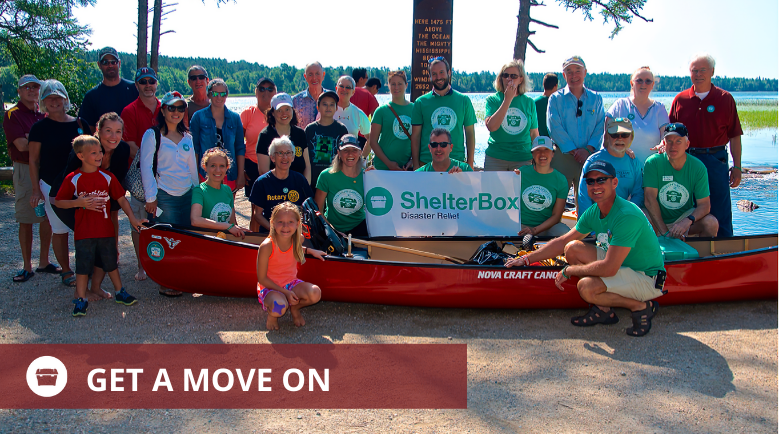 All around the world, people are getting physical for ShelterBox — like marathoners ShelterBox Response Team member Steve Tonkinson (in the page header) and RYLA graduate Joanne Skuse who is running the Queenstown Marathon.
Rotarian Erik Else (pictured here) canoed the entire length of the Mississippi River. Ken Wilson from the UK did 3,000 burpees in 30 days. Other Rotarians are climbing mountains, tramping tracks, and biking around New Zealand, all to raise awareness and funds for ShelterBox.
But you don't have to go to these extremes! Get a ShelterBox t-shirt to wear as you walk your next 5k event. Pull a ShelterBox around town behind your bicycle, or if you're teaching yoga, dedicate the revenue from one class (or more) a week to go to ShelterBox. There so many great ideas. We're sure you can find one that challenges you.
Brand Something
---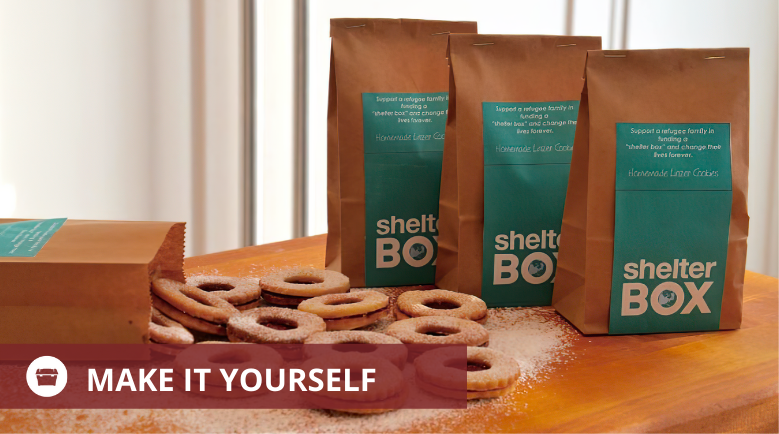 Do you bake? Make wine? Sew? What do you enjoy doing that people love and are willing to make a donation for?
ShelterBox Response Team member Jimmy Griffith from New Zealand sold shortbread cookies. Laura Springer from Canada sold linzer cookies (pictured here). Sno Road Winery in Oregon created InTents 2013 Cabernet Sauvignon. What's your specialty? Donate all or part of the sales to bring hope to people who have lost everything.
Please let us know what you plan to do so we can provide support with branding guidelines, high quality logos, etc.
How did it go?
---
Be sure to send photos and a story about your event to us at [email protected] so we can feature you or your club in our newsletter.