Each year, families displaced by the conflict in Syria face the challenges of harsh winter weather.
Living in displacement camps, often with very little to keep themselves warm, they are met with sub-zero temperatures and extreme conditions.
In the North East of the country, we have been working with our trusted partner the Bahar Orgnization to support vulnerable families.
We have provided tents and packed ShelterBoxes to a remote and hard to access region.
Families in the area have been living in flimsy tents and makeshift shelters made from materials they have found and brought with them.
HAMDA'S STORY
---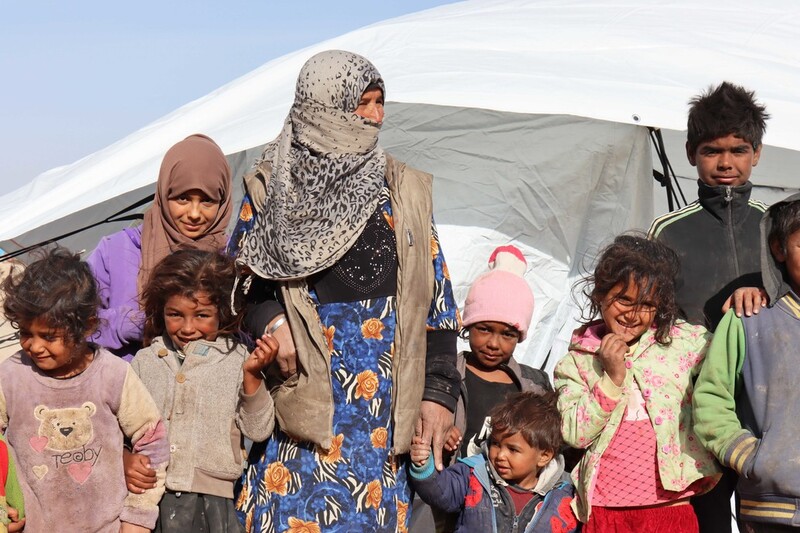 Hamda is just one of the millions of people pushed from their homes. She has been displaced for 5 years now.
Hamda now lives in a camp for internally displaced people with her eight children. She spoke to our trusted partner, Bahar Organisation, about the moment she was forced to flee her home.
"We left when the fighting intensified in our village, crossing a river and eventually settling on its banks," she said.
"We heard news that the place we were staying would be bombed so we decided to move to a camp. We stayed on foot for two days before we got here. It felt so bad to leave my house, like a funeral of death. It was destroyed, robbed and looted."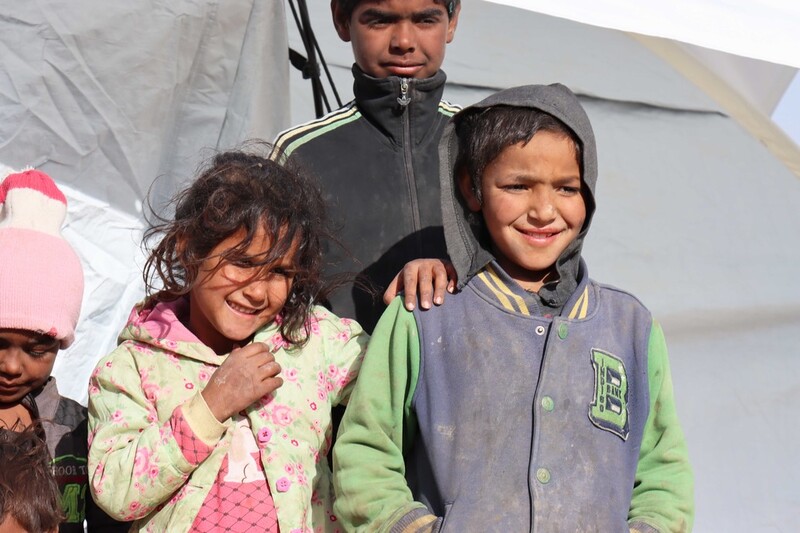 Life in the camp is very different to life before the war.
"We left cattle of sheep and cows and left the place we had built over the years. We just left with our clothes and some money. Our current living is for food and drink, even these rights are not available all the time. Many days we go to sleep without eating anything at all."
With temperatures reaching sub-zero in Syria over winter, it's a tough time for displaced families living in makeshift shelters or tents.
"We hadn't cared about winter so much before. We had a house, there was a fireplace, we had furniture, carpets and clothes, there was security in all forms of life."
Now the family have no heat, no wood and no fuel to keep them warm, they are just sitting through it.
We are afraid of destroying the tent over our heads because of the heavy air, and we are afraid for the children from the extreme cold. There is no heat, and in the winter there is not much food because everything is expensive.
Hamda
A RAY OF HOPE
---
Hamda and her children were one of the families to collect a ShelterBox tent and a ShelterBox filled with essential aid items.
"The most useful items were the home furnishing and the kitchen utensils, because when we left our house, we had nothing.
"Thank God you have provided us with blankets and some simple furniture", said Hamda.
As well as the threat of winter, the family face another threat that is spreading across Syrian displacement camps –coronavirus.
When talking about her concerns around the virus, Hamda said, "the most frightening thing for me is that there are no hospitals, no specialist doctors and no medical points in the camp to help us."
With your support, we can reach vulnerable families like Hamda's in Syria and beyond.