Stepping back into a Crisis
---
For Kiwi ShelterBox volunteer Jimmy Griffith working with the Rohingya refugees in Bangladesh compelled him to return. He talks to Stu Hunt about his second stint in the humanitarian crisis.
Even though the spotlight on the plight of the Rohingya refugees in Bangladesh may have dimmed, the crisis is still very real according to Nelson man Jimmy Griffith.
In his volunteer role with the ShelterBox Response Team Griffith was deployed to Bangladesh in November last year to help deal with the Rohingya refugee crisis at a time when the world was waking up to how serious the situation was.
He never planned to go back but he ended up doing exactly that.
Griffith made himself available for a second trip because he knew there was a still lot going on, and then he got the call.
"I got an email; 'Want to go back to the Rohingya crisis?' and I thought to myself, Can I go to the Caribbean instead? But deep down I knew I had to go back."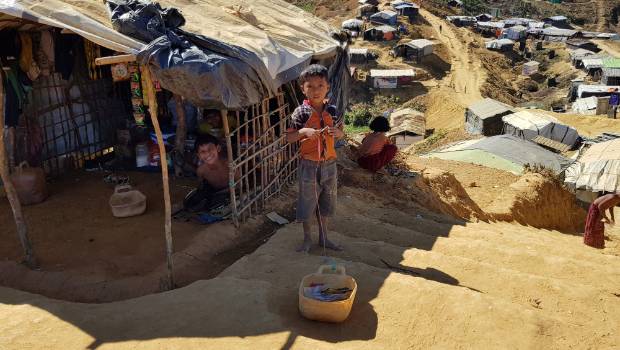 One thing that stood out for Griffith on his return to Bangladesh was that the standard of shelter had improved.
For him the first deployment was the worst, with gruesome stories of rape, murder and torture. Tales of children being thrown on fires and people brutalised before being locked in huts that were set alight.
In the end, Griffith said he was left with the question: How can humans be so mean to other humans?
"I don't know if I've dealt with it or not. But this time seeing the improvements I realised I can't take the world's problems on my shoulders.
"It helps to focus on the simple things. Focus on the positives and not the  negatives, or I'd end up in a deep dark hole."
Griffith said it was interesting going back a second time because he knew exactly what he was getting himself into. Despite the enormous hardships still faced by the masses of displaced people, he said some things like the level of shelter were improving.
One of the key issues now is firewood.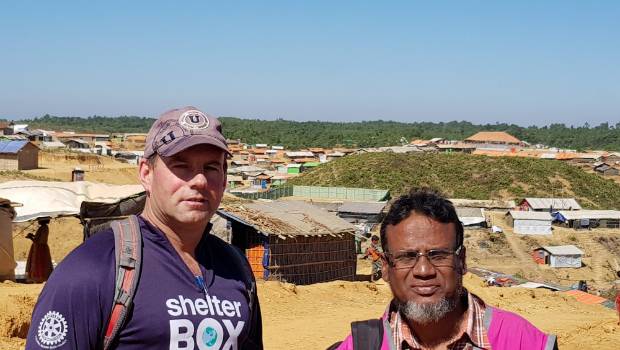 Griffith with a fellow aid worker at the refugee village.
Bangladesh was already facing deforestation prior to 2016 with refugee numbers around 250,000. Then another 600,000 people turned up.
Firewood is crucial to the refugees to keep warm and cook their food. Problems arose as it got scarcer and people had to venture further afield  to gather it. With so many of the young men killed when the Rohingya left Burma, that task now fell to women and young children.
That in turn has created something known as general base violence or GBV.
"There are military all around but the scary thing is that the Rohingya were still at risk of being kidnapped and put into slavery, especially children."
Griffith said the best solution was supplying LPG to the camps so people did not have to travel so far.
Griffith said the United Nations High Commissioner for Refugees (UNHCR) was also working with the government to replant trees.
He said that deforestation has had the flow-on effect of stripping the host community of their livelihood and animals of their habitat.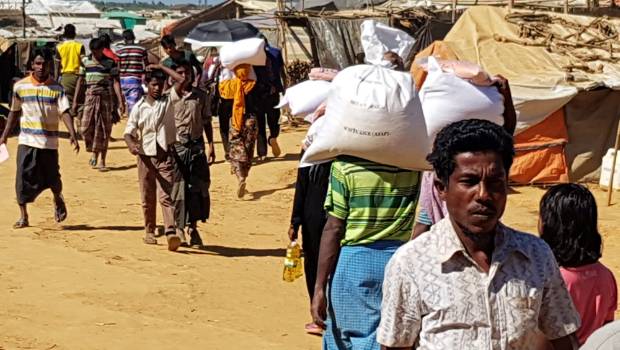 One of the issues for the refugees is the large distances they have to travel to fetch food and supplies.
Overcoming these problems is not cheap. The price tag has been put at about $45 million.
Griffith said another one of the biggest problems was preparing for when, or if, Myanmar accepts the refugees back.
He said they would need help going back as well because they have lost everything. But there's a fear that won't happen.
"Myanmar people aren't going to be heading back in the near future and that's what we're expecting.
"And it's anticipated that at least another 100,000 people will cross into Bangladesh. So what is the future for these people, we don't know."
The issues are still stacking up.
There's the weather with cyclones guaranteed and monsoon season coming. In August last year 152 people were killed in landslides.
"With the influx of 600,000 more people they're building on land they shouldn't, under banks, on land that won't drain."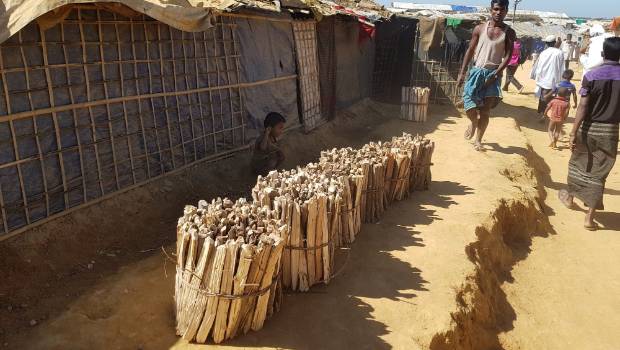 Firewood stacked in bundles. A move to supplying LPG to the refugees would remove the need for dangerous sorties away from camp.
Griffiths hates to think how many people will die in landslides this year.
And disease. "There has been both measles and cholera outbreaks and 80 per cent of the water has ecoli in it."
Add in hardship, malnutrition and logistical hurdles and the magnitude of the problems they face becomes clear.
Griffith said there were access problems already with people having to move large distances to get food and supplies.
The aim was to try and get closer to the people so they don't have to carry food and supplies so far but when the rains come they'll be hampered by mud.
He said if the people can't make it to the markets they only have basics like rice. There's no variety in their diet, they don't have vegetables, they don't have fish which is their staple diet.
"So that's why people are getting a bit down. The first shock has worn off, now they're here and people are getting low in their own health."
Griffith said his role was different for me this time realising now that ShelterBox had done its job with few gaps left for them to fill as UNHCR, IOM and UNICEF were doing an amazing job
"That's what ShelterBox does really well – find gaps and plug them. For instance ShelterBox responded in the north to flooding because no one else could."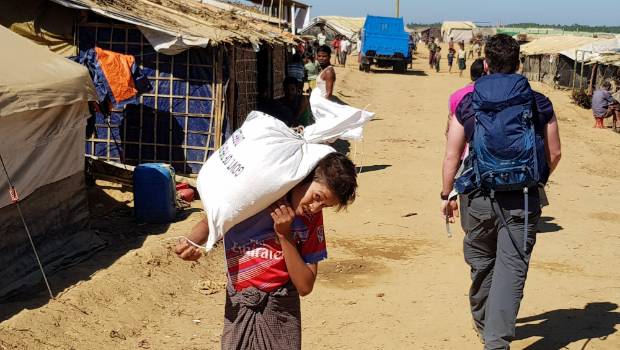 A child carries food back for his family.
With so much demand in other centres as well like Syria, Kyrgistan and the Phillippines,  ShelterBox has identified a need to save some resources for other crisis zones.
Griffith said ShelterBox UK's vision by 2025 was to help a million people. Last year they helped 165,000 people.
But to do that he said they need more volunteers and financial support.
No one knows when disaster will happen but when they do that's when we get the donations. The need is greatest before the disaster.
"As we've grown we've got more commercial power to say we need stock pre-made. We can pay for it when it happens because it will happen.
"One of the things we need is to fill our warehouses with stock so when there is a disaster we can respond straight away we don't have to wait."
Griffith said one of the biggest expenses was freight. Moves like shipping material from India to Bangladesh, even though its 10 days slower, can save US$50,000.
"You have to make those calls and it's hard to make them but you just have to do the best you can. Every night families are sleeping under the stars.
"Even small donations of $1 a week slowly build and build towards reaching our vision in 2025."
At a basic level its $22 for a tarp. Blankets are $5. A complete ShelterBox is $1500 but a Shelter Kit with two tarps and tools is only $90.
For Griffith returning to tell the story and have so many people throw their support behind ShelterBox NZ was amazing and refreshing.
He said the support of Rotary International as a project partner had been humbling.
"I'm not alone and not the only one who cares. I am just fortunate that I can go and help.
"But we're all connected. A person who gives a dollar has the same goal. You don't have to go overseas to help. You don't have to go overseas to care."
Ultimately, Griffith says it was not an easy journey but seeing even one family helped makes it worth the risk.
"Sometimes you win, sometimes you lose. You just keep chipping away until you find a way."
Our sincere thanks to Stuff reporter, Stu Hunt for this article.
Anyone wishing to donate to ShelterBox can do so through its bank account here in New Zealand  03-1749-0416598-00.
or, by clicking on the link below, thank you!