Yemen is one of the world's worst humanitarian crises. It is a result of the bitter civil war, starvation, and a failing economy.
We are partnering with BCHR (Benevolence Coalition for Humanitarian Relief) to support vulnerable communities as violence flares up again.
Read more about the crisis in Yemen, how people are affected, and get some crucial facts and figures.
WHAT'S HAPPENING IN YEMEN?
---
Since 2004, The Houthi movement has been leading an insurgency against the military in Yemen. The movement is known officially as Ansar Allah. In 2014, tensions between Houthis and government forces escalated into outright civil war.
Protests around the 2011 Arab Spring had pressured Yemen's President Saleh to hand power to his deputy, Abdrabbuh Mansour Hadi. The transition was not smooth.
As security forces withdrew from outlying provinces, the Houthi rebels took advantage and captured territory in the north. They also had growing support from Yemenis tired of Saleh's decades-long regime.
By the end of 2014, Houthi forces had occupied Yemen's capital city, Sanaa. In early 2015, President Hadi fled Yemen.
After Hadi appealed to the international community, Saudi Arabia led a coalition of Arab states to try and restore full power to the Yemen Government. Relentless airstrikes and ground offensives killed thousands of civilians.
Has there been a ceasefire in Yemen?
---
It was a war that was meant to last weeks. But Yemenis' suffering has dragged on for years.
Since the offensives of 2015-16, there has been a political stalemate. This has been punctuated by failed ceasefires and collapsing alliances.
As a result, the UN released a bleak report in 2018 calling this 'the worst humanitarian crisis in the world'. It said that war crimes had been committed on all sides.
In the same year, the UN negotiated the Stockholm Agreement between the Yemen Government and Houthis. It was a desperate bid to protect the vital port of Hudaydah from further fighting. Two-thirds of Yemen's people depend on this port for food, medicine, and aid. Its destruction would have been catastrophic.
In April 2022 another ceasefire was agreed. During this time there was an improvement in humanitarian conditions and a reduction in the intensity of conflict. But this ceasefire came to an end in October. Although violence has not re-escalated to levels seen before the ceasefire, families are still at risk.
The conflict has displaced 4.5 million people since 2015. Of these, one third are estimated to live in spontaneous and informal settlements. Here they are exposed to many risks including extreme weather and landmines. Many families are crowded into single shelters.
How are people affected?
---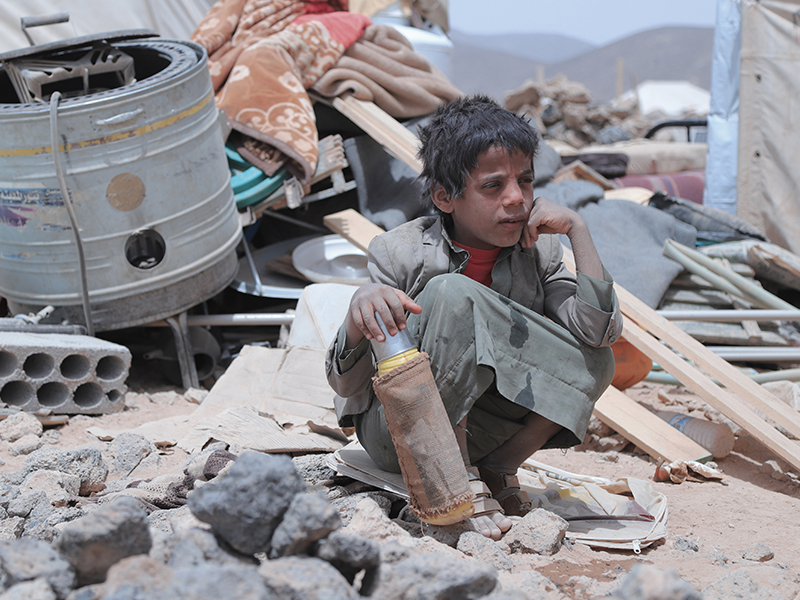 The crisis in Yemen bleeds far beyond the conflict itself. Intense deprivation and lack of services create new and spiralling crises every year.
21.6 million people – that's two-thirds of the entire population – need humanitarian support.
Of these, 4.5 million people have been internally displaced. 83% of these people have identified shelter support as their priority need.
Most displaced people have been away from home for more than 2 years. Many people have been displaced two times or more. The average time of displacement is eight years. Some of these people are moving again and again. They are exhausted and extremely vulnerable.
How is ShelterBox Helping?
---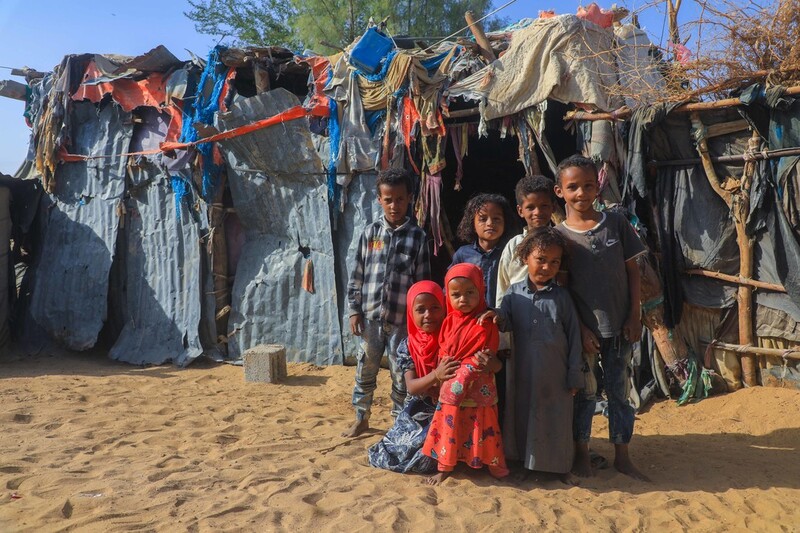 We have partnered with BCHR (Benevolence Coalition for Humanitarian Relief) to support vulnerable communities in Marib.
We have previously provided people who are newly displaced with a UN family tent. People living in damaged shelters received tarpaulin and rope to help them improve their homes. All families also received water filters, blankets, sleeping mats, solar lights, mosquito nets, water carriers, washing facilities and kitchen sets.
We are now working to provide households with more durable shelters. These are known as 'iron net' shelters. They consist of an iron net frame on a concrete base, thermal insulation and a corrugated steel outer shell. People are also receiving priority shelter items such as mattresses and blankets. These shelters are recommended by local authorities as a solution to displacement. They are also preferred by local residents.
Shelter kits containing tarpaulin and rope are available to those affected by sudden onset disasters, such as flooding.