WHAT IS THE FORGOTTEN CRISIS?
---
Also called the Boko Haram Crisis or the Lake Chad Basin Crisis, the Cameroon affects some of the world's poorest and most vulnerable people.
Reaching across Nigeria, Cameroon, Niger and Chad, it is a huge and complex humanitarian crisis with many causes.
Extreme poverty, underdevelopment and climate change are just some of the factors at play, alongside growing insecurity caused by Boko Haram attacks.
Why is it forgotten?
Could you point to Lake Chad Basin on a map? Have you heard much about the crisis in the news recently?
If the answer is 'no', you're not alone. It is called the forgotten crisis because it receives little media attention from western countries.
Boko Haram gained notoriety when it kidnapped 276 Chibok girls from a school in Nigeria in April 2014. The world responded with the Bring Back Our Girls campaign. But the widespread issues in the Lake Chad Basin continue with women and children continuing to be targeted.
Who is Boko Harem?
---
Boko Haram is an extremist militant group that opposes western education and influence in Nigeria.
The terrorist organisation has raged violent conflict in Nigeria since 2009, which has spread to neighbouring countries of Chad, Cameroon and Niger.
As Boko Haram has occupied territory, farmers and fishermen can no longer freely access what is left of the lake and lands.
Today, Boko Haram continue mass atrocities on villages – looting, killing, abducting women and children and conscripting men and boys into their army.
The world's media took a stand in 2014 when 276 Chibok girls were kidnapped in Nigeria. But the atrocities have continued since then, seemingly going unnoticed.
One of the worst examples of Boko Haram terror and abuse is the use of children, mostly girls, as 'human bombs'. Young girls are used as suicide bombers and have explosives strapped to their bodies.
The words 'Boko Haram' roughly translate to 'western education is a sin' and thousands of schools have been attacked, looted and burned. Over 1,000 children have been abducted and thousands of teachers killed.
But Boko Haram and the surrounding military offensive is just one of the driving factors in the Lake Chad Basin forcing people to flee their homes. Extreme poverty, underdevelopment and climate change are also at play in this forgotten crisis.
Where is Lake Chad?
---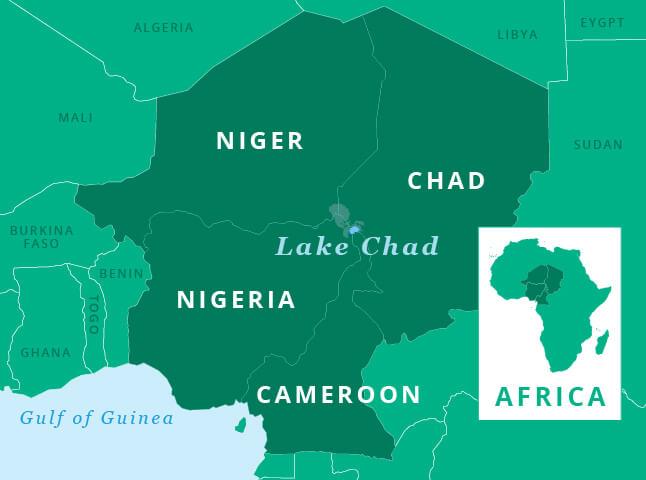 Lake Chad is a freshwater lake that is located where Chad, Nigeria, Cameroon and Niger meet.
It was once one of the largest lakes in Africa, providing water for over 30 million people.
Historically, local people relied on the lake for their livelihoods, living on the plentiful fish and fertile land. But since the 1960's, the lake has shrunk by about 90%, turning the area to desert. This is reportedly due to a mix of climate change, increasing population, overuse and irrigation.
In one of the hottest places on earth, it is now almost impossible to make a living from the land or the lake.
HOW IS SHELTERBOX HELPING?
---
9.7 million people are in need of urgent humanitarian aid in the Lake Chad region (source: Reliefweb).
Although this is a complex crisis, we have been working in the region since 2015, reaching thousands of vulnerable families – that's families like Esther's (pictured here).
ShelterBox is the sole provider of tents in Minawao displacement camp in the far North of Cameroon. Together with our partner IEDA Relief, we've supported over 100,000 refugees and internally displaced people (IDPs). We have provided tents, shelter kits, rope and tarpaulins, and other essential household items.
We have also supported people in the epicentre of the crisis. In Nigeria, we reached over 30,000 people together with our partner ACTED between 2018 and 2022.