The Christmas season is almost here!
As we plan out our own celebrations and festivities here in New Zealand, around the globe, 104 million people will be spending Christmas without a home.
From families in the Philippines who are still recovering from the devastation of Super Typhoon Goni, which destroyed 90% of homes in the worst hit areas, to those in Syria, who continue to flee conflict, despite having nowhere to call home, as temperatures head well below zero, thousands will be going without the basic necessities.
But, this Christmas, you can honour someone special in your life, by paying it forward to help a person in need, with a ShelterBox Christmas Gift.
For as little as $20, you can provide families caught in the chaos of disaster with the gift of hygiene, safe drinking water, shelter, and much more.
Your gift is so much more than a canvas roof overhead, or a warm blanket to wrap a child in. It's a good night's sleep after an endless nightmare. It's the only home a family may have for months. But, most of all, it's the promise that the worst is over, and there's a brighter future ahead.
The Gift of a Fresh Start
---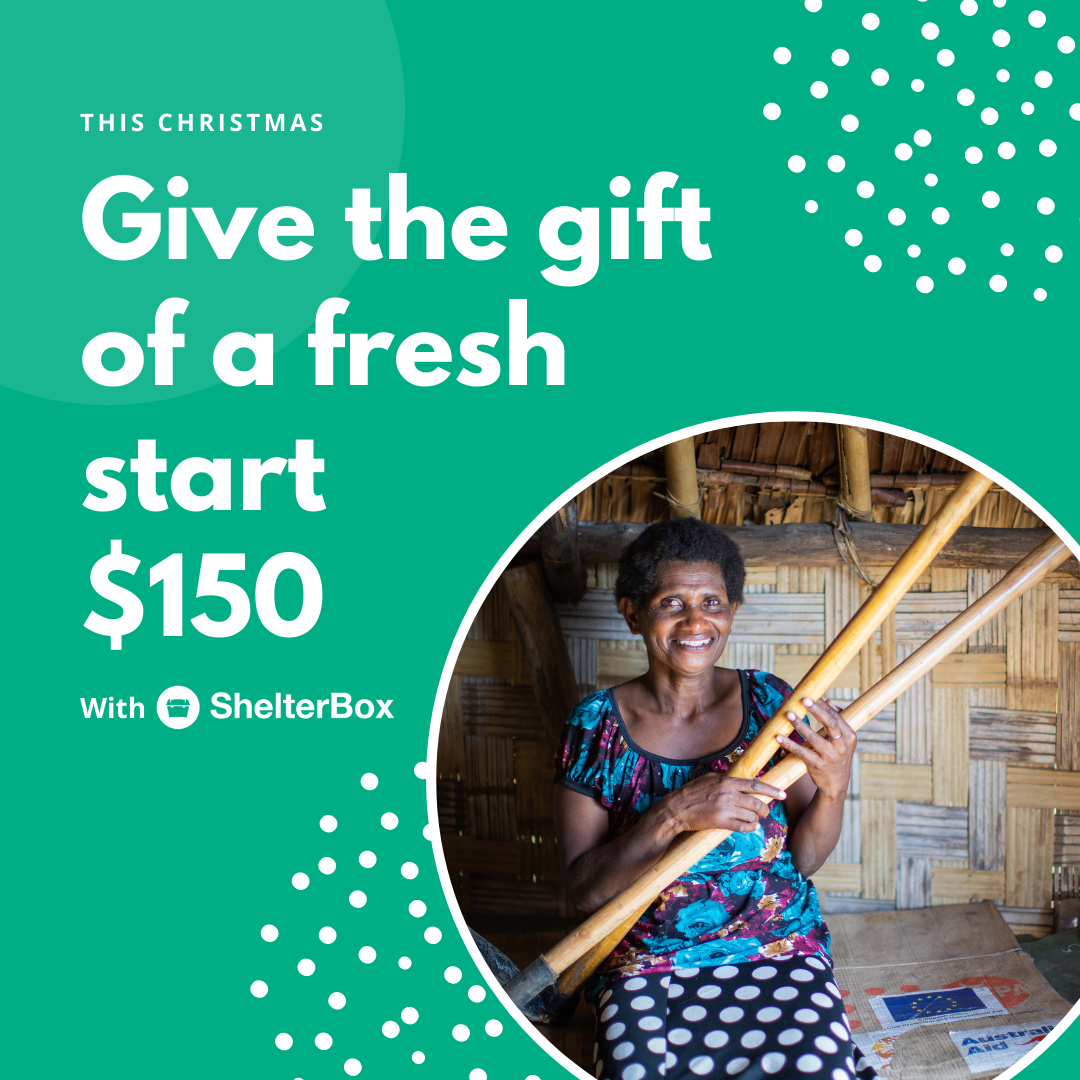 When disaster strikes, families lose their homes, possessions and livelihoods.
Basic Shelter tool kits are equipped with a hammer, saw, rope and pliers to provide families with the supplies they need to salvage their possessions, make repairs, and start rebuilding their homes and lives. Your donation will support a family's path to recovery.
Give the gift of a fresh start and new beginning for just $150 this holiday season.
When the toolkits came, we shared them with families, they went and rebuilt their kitchens and houses. They were so happy"
– Susan (Vanuatu)
Buy Your ShelterBox Christmas Gift today
*Items shown are illustrative of  the types of aid that ShelterBox provides. Donations fund emergency shelter needs worldwide.
*All donors will receive a printable card via email.